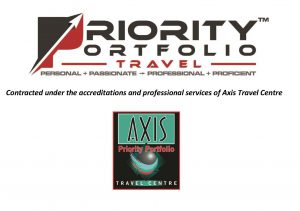 Referred to as "PPT"- Powered by Axis Travel Centre, accreditation's and security.
Within  Axis Travel Centre , there is a separate travel clientele portfolio of travelers that is catered for by industry veteran Max Najar.
MAX NAJAR has a trademarked and registered company called "Priority Portfolio Travel Pty Ltd"™©  -known as PPT, that owns the business name Axis Travel Centre,
The mantra of PPT is  "  Delivering personalized travel solutions to humans who expect and appreciate the highest level of professional  travel advice , created from over 40 years experience,with the security of professional accreditation's, financial security and personal credentials that exceed travel industry standards  This expertise is merged  with a skill set of  intense product knowledge ,industry contacts and computer reservations expertise , delivered with a personal human touch"
PLEASE NOTE that PPT does not market or advertise to secure clients.Max Najar accepts clients within this exclusive PPT portfolio  by INVITATION ONLY.
Priority Portfolio Travel Pty Ltd"™©  ACCEPTANCE:
Acceptance to be part of the "PRIORITY PORTFOLIO TRAVEL" client list is not based on the value or the travel classes/standards  required nor the destination  nor the reputation of the client.
Acceptance as a PPT client is based on Max Najar accepting your travel booking request after consideration is given for what is requested with emphasis on his available time at the time of your request  and  his ability to  allow quality, dedicated time to deliver the highest level of professional services without compromising the standards expected from himself or his supporting PPT team.
The clientele base is restricted in numbers.
PPT is not about quantity – it is about quality. A mutual respect of time and the sharing of his PPT intellectual property is essential to ensure the longevity of maintaining the values of "PRIORITY PORTFOLIO TRAVEL"™ © .
The distinct ADVANTAGES in being a valued PRIORITY PORTFOLIO TRAVEL" ™ © [PPT] client:
E X P E C T :-
To receive FREE "SECURITY UMBRELLA"© protection package to protect you against Airline, Cruise line, Tour Company, Supplier or Agency financial collapse.• Access to a dedicated human, usually Max Najar,   24 x 7, via a private phone/text and email contact.
Human to human conversations with benefits of  empathy , listening, advising and delivery of trusted and reliable quality travel arrangements.• Mature travel industry expertise delivered without bias.• Personalized and meticulous attention to detail, in all aspects of travel.• More time to do as you wish in life , as PPT will research, compare, book and followup and travel booking requests, issues or needs.
A major reduction in your stress levels as PPT will attend to travel arrangements in an efficient and effective manner utilizing expertise and experience , accumulated since 1978.• PPT  to share internal privy information and data that is relevant to your travel, most usually not disclosed in consumer mediums.• PPT to deliver to you the concept of  "Deconfusing the Confusion"™ as  PPT will summarize the volume's of  complex travel conditions and regulations into palatable portions that most humans , who do not have an advanced degree in legal jargon or skills in English language ambiguities, cannot understand.• The sharing of privy Industry "Educational"  reports and travel component inspection data that are not consumer mainstream.• PPT to advise, book and attend to your Frequent flyer requests , utilizing a skillset that includes thousands of route permutations with hundreds of different  class and carrier options that Airline and hotel helpdesks and websites are not trained or engineered to process with the added benefits of us knowing and advising you of any relevant blackout periods, Frequent flyer Airline bonuses, reward incentives or frequent flyer upgrades that may be available .• PPT to share relevant published Media reports, radio excerpts, some authored by Max Najar, and others via respected sources.• PPT  to assist with relevant Travel Insurance advice, including pre-Existing matters , with a choice of policies offered so you can make and informed choice to afford you the best level of protections, usually with a nil excess payable, issued by PPT but respectful at all times of your confidentiality and our Australian Privacy Laws.
• PPT to advise you of Australian plus (more importantly sometimes!) International Government and Security travel departments warnings or notices , when relevant and/or us referencing sources for you to secure additional advice or information.
PPT to listen to your special requests then research,construct and deliver creative and in many cases "unique" ideas for celebrations or surprises for self, partner and or any coordinated 1st, 2nd and 3rd generation family travel plans or Corporate celebration or Conferences.•
BOOKING CONDITIONS- CONTRACTING  TERMS -PRIORITY PORTFOLIO TRAVEL" ™ ©

EACH BOOKING REQUESTED will incur a nominal  BOOKING FEE  of $55 per person for Domestic travel / $110 per person for International Travel , added to the overall costs payable initially as a nonrefundable BOOKING FEE as indicated.
This BOOKING FEE is nonrefundable but is deducted from the bel;ow mentioned "PREF" levy added at the end of your total travel booking costs.
Both the BOOKING FEE(s) and "PREF" are non-refundable once paid. Travel insurance taken out may refund these back to you, depending of policy wordings.
Once this Deposit is paid, the commencement to engage his services begins, to advise and secure travel arrangements for  your travel requests .
Once bookings are advised, the sum total of monies payable will have a "PREF" added to your costs "PREF" denotes "PRIORITY RECOGNIZED ENGAGEMENT FEE © .
This PRIORITY RECOGNIZED ENGAGEMENT FEE © [ "PREF"] is set at a level of 1.42% in year 2020. This fee is increased each year by only .01% to reflect each year of his travel involvement.
The PREF  for 2020 is 1.42% , as the suffix  figure .42 represents 42 continuous years of Travel Agency expertise and experience [since 1978], with year 2020  being 42 years. The year 2021 will have a PREF of 1.43% and so on.
These added benefits, based on the highest levels of product knowledge, his toolkit of computer and human connections , experience and expertise can easily equate to major monetary savings apart from delivering  travel arrangements and advice of the highest levels.
PPT INVITATION – To be part of "Priority Portfolio Travel" is limited and not designed for everybody. It is for those clients that request and expect the highest levels of travel services, security and advice  no matter what class of travel or budget is set.

Apart from the unique quality services listed that each "PRIORITY PORTFOLIO TRAVEL" ™ © client will receive,  it is important to also consider these benefits that are extended to PPT  clients in the overall travel equation :

PPT CLIENTS CAN EXPECT TO RECEIVE PER TRAVEL COMPONENT , wherever possible, at discretion of PPT  :
 AIR TRAVEL : Expect  PPT advice on a multitude (if so asked) of flight and fare options , with what benefits can be extracted from fare levels payable, , advantages and disadvantages of carriers used, best Alliance partners to use, , upgradable sectors, seat allocations, securing extra frequent flyer points/miles, ensuring TTL and MCT regulations are adhered, selecting best quality aircraft types per sector with correct connecting terminals, free layover facilities, free transfers . lounge facilities or upgrade chances. also expect us to offer any "deals" or "flights with extra accumulated points or miles" to be offerred to you, especially if ststus points are required or you are flexible.
 CRUISES: Expect specific details on cruise destinations, time aboard and ashore to suit your preferences, passing info  that PPT can source  from international contacts that Australian consumers are not privy to, with PPT  also investigating and extending Cruise booking upgrades, resourcing the best on-board $credits and/or pre or post Cruise hotel stays and/or better located cabins, unobstructed cabin views, positioning into the newly refurbished cabins, and/or free land tours and/or extra cruise amenities.
 TOURS: Expect advice on the integrity of the Tours, the expertise of the guides, plus ensuring your preferred language applies to tours booked, saving local taxes when booking certain tours in advance, having Emergency phone numbers in case of need, offering upgraded Tour inclusions and/or land transfers via Limo and collection/drop off points.
 HOTELS: Expect  PPT to not only consider the price of a room, suite or resort but the possible hidden charges that may apply, resort fees payable, any considerations of  exchange rates, exclusions and inclusions, exact room furnishings, size, positioning within hotel, nearby what facilities, confirmed and truthful (not blog site) reports from recent client or staff reports, the Hotel or resort management style, position to local transport or MTR stops, extra hotel services, bathroom facilities such as specific mirror,  shaving and makeup, facets, wardrobe spaces, TV and/or Internet accessibility, Fitness centre quality, pillow and towel selections notable room cleanliness levels , expected nationality of Hotel clientele, positioning of Hotel within a locale, securing old or new wing rooms, securing best value-for-money costs, delivering suitable Hotel choices and/or room upgrades and.//or refurbished room locations and/or extra meals and/or free Wi FI and/or Executive floor access and/or extra room inclusions,. Such aspects and considerations are only part of the myriad of details that PPT can assist you with to deliver a quality stay, with more regard in delivering quality value-for-money stays rather than based on price alone.
 VEHICLE RENTALS: Expect  us to secure rental via a company that passes the PPT test (expect separate advice here as Max Najar was on the AVIS CAR travel Agents Advisory board for over 20 years) the Depot availability in hours , services and locations, afterhours Emergency services, some, hidden costs revealed,, Provide free upgrades and/or reduced drop-off fees and/or inclusions (GPS/2nd Driver)
 VIP TRAVEL: Expect  PPT to extend exclusive VIP Travel inclusions and/or extra benefits negotiated via privy contacts for you, to receive special considerations ,  services and advantages. This area has been nurtured since 1978 with services, offers and ideas that has bestowed  over 37 Travel and Business awards to Axis Travel Centre/Max Najar.
 UN-ADVERTISED DEALS : Expect PPT to offer travel deals that are not advertised in your city but sourced worldwide , most being value-added,  unique and exclusive considerations managed by PPT. Many are sourced  Internationally via or marvel contacts we have made and respected or  via "loyalty" offers extended to us via airlines, cruises, Hotels and Resorts ..
 PREMIUM CARDS: Expect to receive research and relevant Premium card member travel and lifestyle deals but only after PPT research whether feasible or just a marketing ploy.

 TRAVEL INSURANCE ASSISTANCE :  Max will give an opinion(not necessarily advice!) on the best Travel insurance coverage to be considered, to read the relevant PDS  (Product Disclosure Statement) applicable and guide you. This can be the difference between securing quality coverage and ability to be properly protected or not- based on his extensive work in this area.
——————————————————————————————————————–
FUTURE CONCEPTS: for  "PRIORITY PORTFOLIO TRAVEL"™ © clients :

In a travel industry first, with a series of short 30min to 60 min physical courses will soon be offered to teach travellers how to protect themselves whilst travelling and be aware and alert of situations worldwide.
PPT clients will have available discounted rates, with courses delivered under the direct teaching of Max Najar, who has had over 36 continuous years as an exponent of Wing Chun Kung Fu (Life Member) and Krav Maga amongst other styles.
Both verbal and physical aspects of dealing with situations will be explained and delivered.
Courses will be for both males and females aged from 10 years to 110 years of age with zero fitness and strength levels required but some form of physical movement will be expected. We expect to introduce these courses which can be conducted @ Axis Travel Centre offices or another approved location in early 2019.
Scenarios such as walking streets, shopping, Airport areas, within confined areas, at an ATM machine, boarding and exiting trains, renting car protocols, talking, misuse of mobile phones, to strangers and other situations will be part of the course(s) with ability to attend as many courses as you wish or attend higher level of tactical courses.
These will NOT be large group courses BUT limited to a maximum of 8 person's per courses unless specifically agreed to by Max Najar if a Group is required to be trained.
Some quotes from Key Note speeches by Max Najar: :
New York, USA.
"……. Price is long forgotten if one receives quality travel services, unbiased options and correct advice before, during and after travel is undertaken plus having a human to assist you effectively and efficiently in emergency situations "
Auckland, New Zealand.
"The two critically important components of time and memories can never be credited back to you, bought, traded or replaced, no matter how rich you are or how powerful you think you are. Respect these at all times"
Sydney, Australia:
"………..You can have a huge array of cars and boats and CD's and TVs and clothes and shoes and a fridge full of lobster and wines but when you are dying, if you get time to think about it that is, you must remember that unfortunately you cannot take any of these things with you nor can they all be cremated with you!. You can only take mental thoughts and memories as physical things are totally irrelevant and even a smell, a touch or a memorable sound you heard cannot be revisited. Only your memories may remain intact, so invest wisely in quality travel experiences and visit places , eat different foods,  chat with people , invest in things that you can afford at that specific time in life  and store in your brain those rich memories until your brain ceases to function. I know it sounds cold and basic, but that is exactly the cold, hard facts of life.  With my dealings with all levels of humans, matterialistic wealth and egos are useless items when you have limited time left. Enjoy travel and spend what you can afford as you cannot take anything materialistic with you- just intangible memories. Remember that nobody really knows what's on the other side……….."
*.Conditions and fees of Airlines, Suppliers, Governments, Axis Travel Centre and "Priority Portfolio Travel" apply at all times.